Store History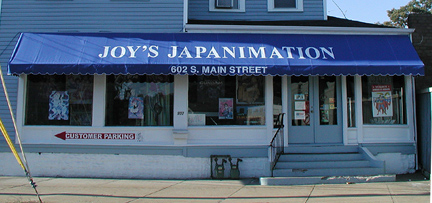 The roots of Joy's Japanimation were actually laid way back in 1985, when Joy and Fer were dating in high school. Fer became hooked on Robotech, which lead him to become an avid otaku. After spending several years in the Philadelphia area where anime merchandise was easy to come by (at least by early 90's standards), Joy and Fer married and returned to their hometown in Greensburg, outside Pittsburgh PA, in 1995. They had a harder time finding anime goodies in the Pittsburgh area and Joy, having now also been bit by the anime bug thanks to Ranma 1/2, decided to try to start her own business and help bring anime to the Pittsburgh area... and so Joy's Japanimation was born!

Click to view larger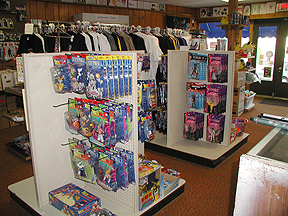 Joy's Japanimation started out in 1996 with a tiny selection of toys and CDs, going to local conventions, handing out catalogs and selling anime by mail order. Although we were still too tiny to have a store, we had a lot of great support from the Disciples of Zor and the University of Pittsburgh Anime Club. Soon we were able to expand enough to do conventions out of state, and by the time 1997 rolled around we were doing conventions almost every weekend, all around the country! It was then that we met Joe Herbert of Anime Shrine, who set us up with our first website for mail orders. At this time Joy also met Aric Wheelan, who helps with Grand Rapids Area Anime Club and JAFAX, and who designed our classic "Sailor Joy" logo that we still use in our Animerica advertisement.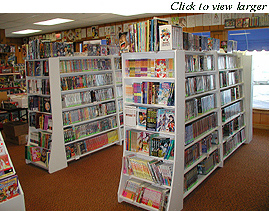 By late 1997 we had a problem... the mail order business had become too large to keep in Joy's house! Joy found a storefront in our hometown of Greensburg, and we took the next big step. Joy's Japanimation opened its doors to the public on October 4, 1997. Now not only could we sell anime merchandise directly to the anime fans in Pittsburgh, but we could offer anime rentals too! Fer put his entire anime collection out to start the rental section off, and we're happy to say that it's since expanded to include over 2000 anime tapes and DVDs, with new releases added every week. The store also offers new manga comics and back-issues, Japanese candy, and a much larger selection of anime videos for sale.

Click to view larger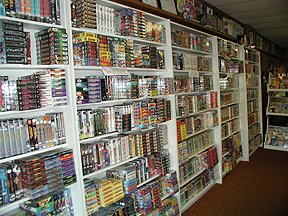 Before long Joy and Fer started needing more help, so they started dragging all their friends in. Rich joined the team to help keep up with the mail orders and videos, and was soon followed by Dave, and Amy came on to help answer all of the e-mail questions that were now pouring in! With Joy's mother Jeanne Dickson helping manage the finances and Joy's father Clyde Dickson being the store's handyman, Joy's Japanimation has become a real family business! And the family trend has continued with the birth of our wonderful daughter, Mylene Goodnough. It's not uncommon to now find three generations of the family here when you stop into the store.
So that's Joy's Japanimation. We may not be as flashy as the big anime companies, but we try to never forget our roots and to always give you the kind of personal attention that you may not be able to get from the big boys. Thank you to everyone who has supported us, we'll keep trying our best to be your total anime store!
---
Store Hours * Directions to our Store
Events
Store History * Meet the Staff
Frequently Asked Questions