Meet the Staff
---

Superdimensional Pig Hammeneggs is our official mascot. Hammeneggs loves Anime and comics! Hammeneggs favorite shows include Porco Rosso, Ranma 1/2, Fruits Basket, Spirited Away, and Tokyo Pig. Come visit Hammeneggs on myspace at www.myspace.com/hammeneggs

---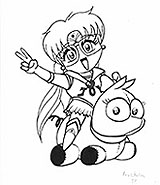 Joy Goodnough is the former owner, the lady of vision who took us from a bunch of fans to the Pittsburgh area's first anime store. We are good friends with Joy and she helps us out from time to time even though she has officially retired. Her favorite shows include Utena, Ranma 1/2, Sailor Moon and Dragonball Z.

---
Fer Goodnough is Joy's husband, who has spent many years in the store and still helps out with the website. He made our Website more user friendly! His favorite shows include GaoGaiGar, What's Michael, Gundam, Yamato, Captan Harlock, and anything & everything Robotech and Macross related.

---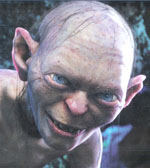 Steve is our new owner! His favorite shows include Elfen Lied, Maison Ikkoku, Mezzo Forte, Vampire Hunter D, Tenchi Muyo, and Magical Shopping Arcade Abenobashi.

---
Rich is our master of multi-tasking, handling pretty much any job (and objects) thrown at him. His main job is handling all of our videos and rentals. His favorite shows include Record of Lodoss War, Samurai 7, Tenchi Muyo, Yamato, Evangelion, Gatchaman, Gundam and Silent Mobius.

---

Danielle is one of our most regular & favorite customers who pitches in several times a year to help us with sales & conventions. She is a true ANIME FAN! Her favorite shows include Neon Genesis Evangelion, Kiddy Grade, Noir, Witch Hunter Robin, Inu Yasha, and Trigun.


---

Mylene Goodnough is our littlest member, who's major goal is to see how much stuff she can get into. She loves Sailor Moon!

---
Store Hours * Directions to our Store
Events
Store History * Meet the Staff
Frequently Asked Questions